BINKLEY, Glenn
1961 - 2022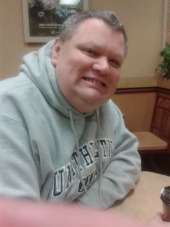 Glenn Edwin Binkley, age 60, passed away February 24, 2022 following a brief illness.
 Beloved spouse of Melissa Duffy and stepfather of Melissa's children, James and Neveah. Beloved father figure to Jamie and Terri Armstrong. Stepfather of Mandy and Tara and father of Stephanie and Isaiah. Much loved brother of Gary (Janet), Dianne Elliott (Roger), and Brian (Frank). He was predeceased by his parents, Lyle and Gwendolyn Binkley.
 Glenn was quite a character as those who knew him would attest. He had numerous different jobs throughout the years. In 2018, Glenn bought a one hundred acre property in King Kirkland northern Ontario, spending the summers renovating the house. He truly loved that property. 
 A Celebration of Life will take place on Saturday, April 9, 2022 from 1-3 pm at Waterford Royal Canadian Legion Branch 123 at 223 Nichol St. Please join the family and come and share your memoires and stories at that time. Donations in memory of Glenn can be made to a charity of your choice. 
Write your sympathies or tribute